Stories of changing glaciers
The current exhibition aims to visualise the future of global glaciers under climate change. Still, for the last century, many glaciers across the world have already suffered massive losses visible through photographies and satellite images.
Kilimanjaro (Africa)
Tropical glaciers have already been very affected by ongoing climate change. A timelapse of the past 35 years using satellite images shows a massive reduction of the snow and ice cover of Kilimanjaro, the highest peak in Africa.
Columbia glacier (Alaska, N. America)
The Columbia glacier, in the Alaskan coast, has lost more than 25 km of ice sheet since 1980.
Mont Blanc (Alps, Europe)
The glacier Mer de glace in the Alps has changed dramatically in the past 100 years. The picture in the right, taken by Walter Mittelholzer in 1919 has a great contrast with a picture form the same location in 2019 ( Ⓒ Kieran Baxter)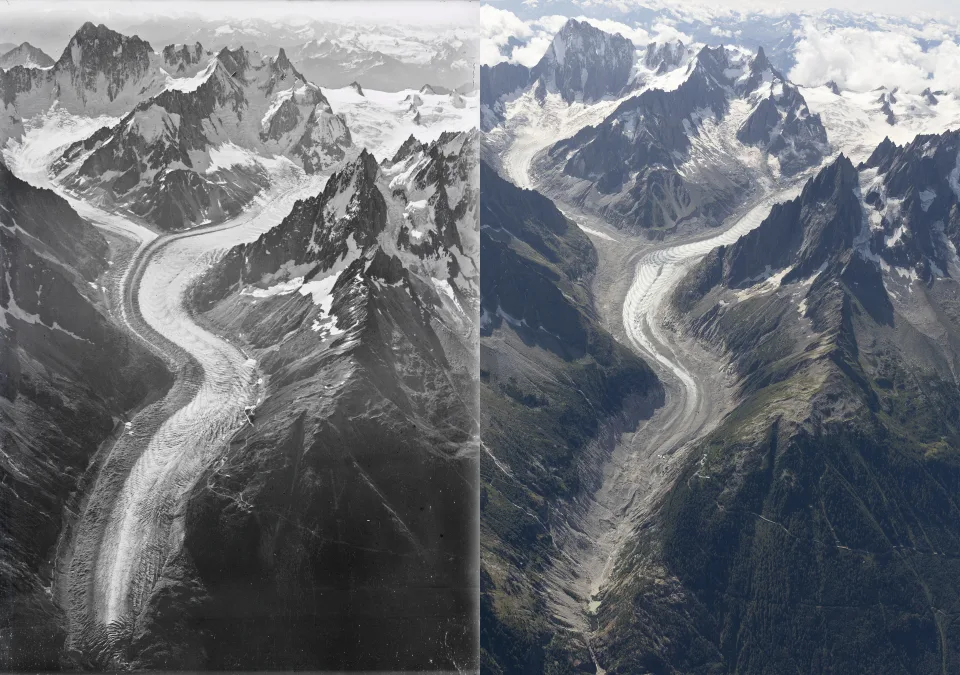 Aneto (Pyrenees, Europe)
The Maladeta glacier is the largest glacier in the Pyrenees. It has lost more than 80 % of the ice-volume since the 1850s and is predicted to fully disappear before 2040.